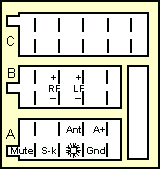 Head unit pinout abbreviations meaning
Pin
Notation
Pin function

Power pins

A+
Battery+ (12V direct from Battery).
GND, GROUND
Chassis Ground
S-kont
Ignition powered. +12 V with the ignition key is in the ACC or ON position.
lightbulb image
Backlight adjustment
ANT
Power for Electric Antenna. Output +12 V (maximum 150 - 300mA)

Audio pins

RF+
Front right speaker out
LF+
Front left speaker out

Misc. pins

MUTE
This pin is used to silence the audio, earthed by some other external components that is connected to the radio.